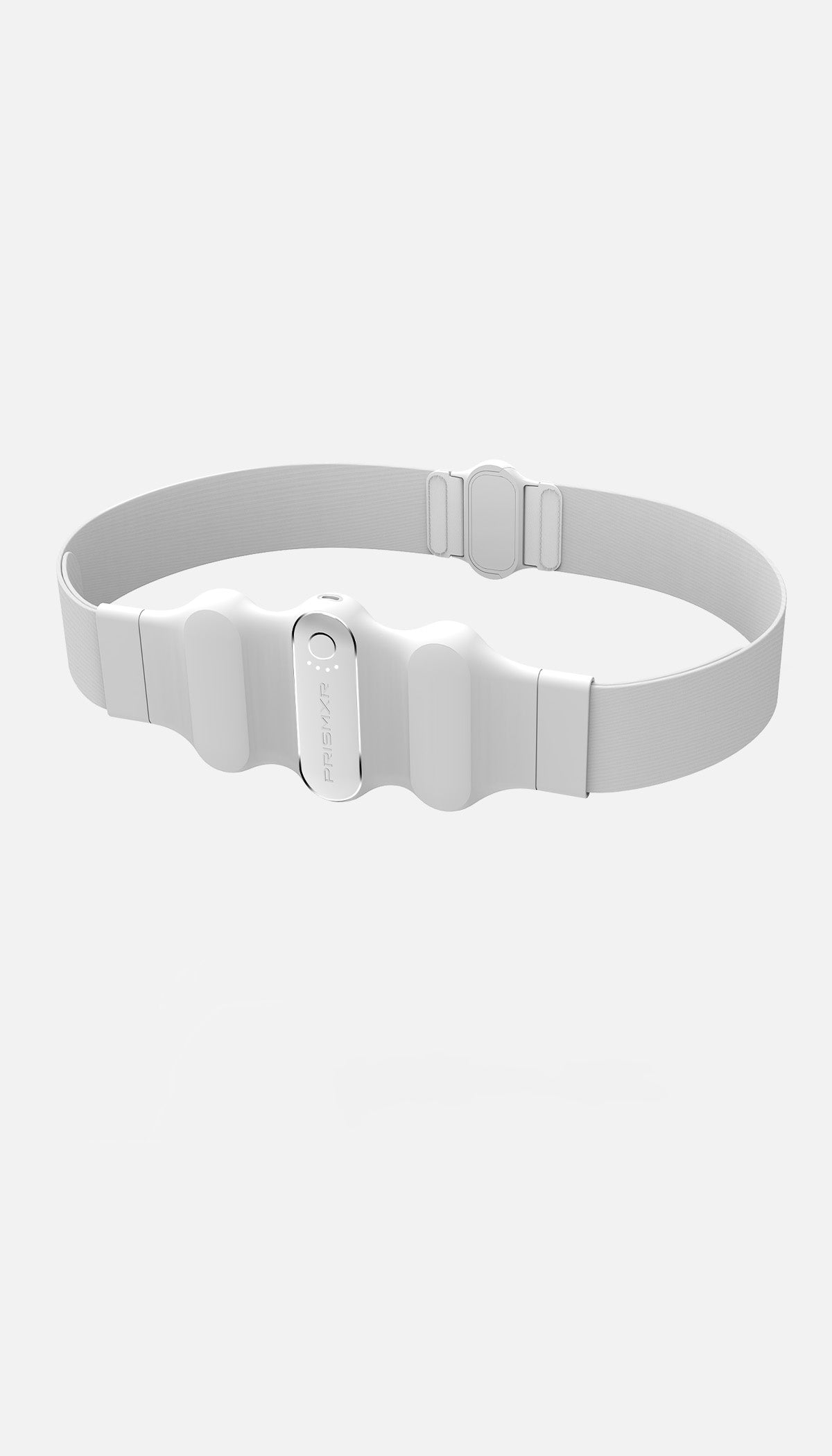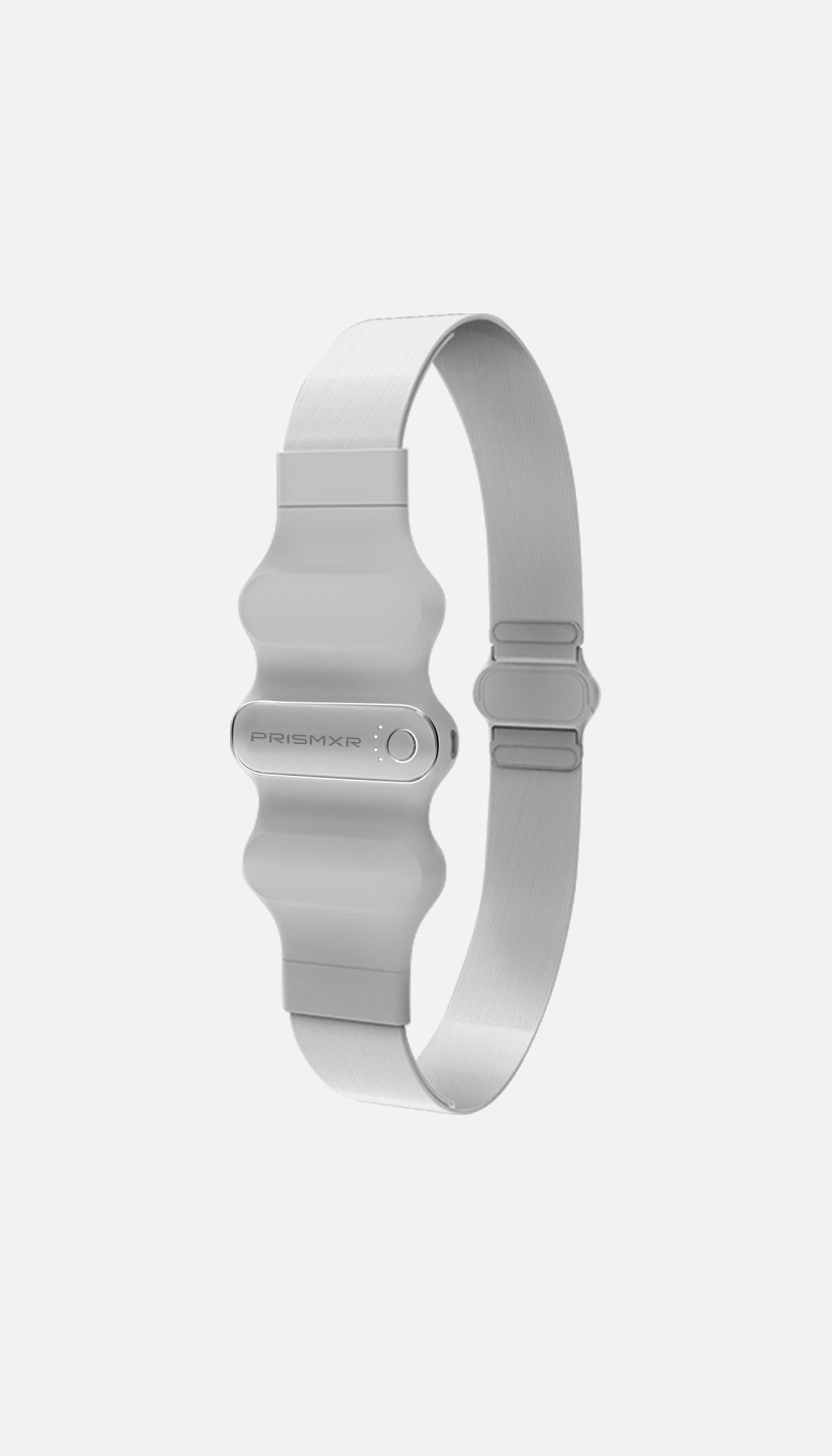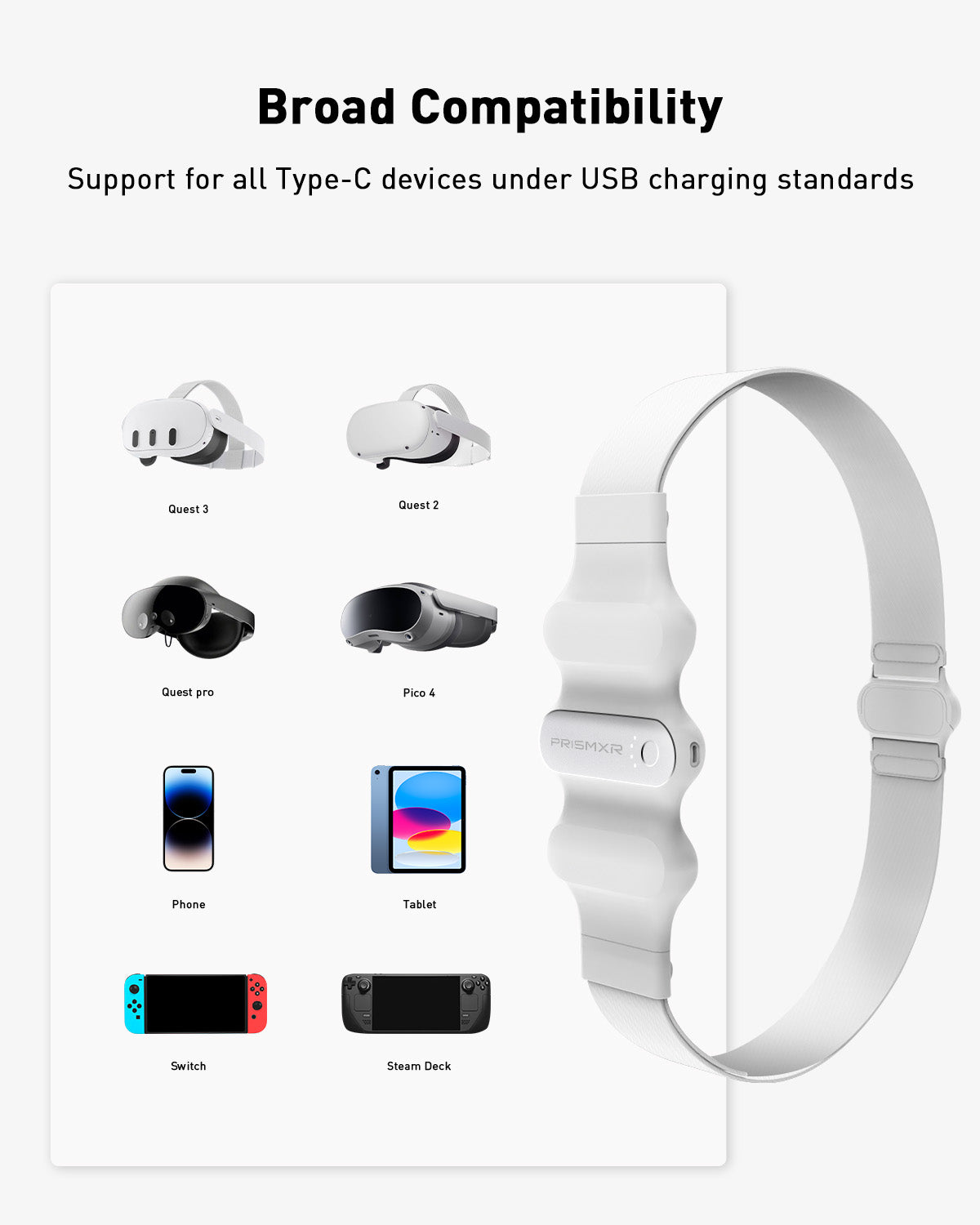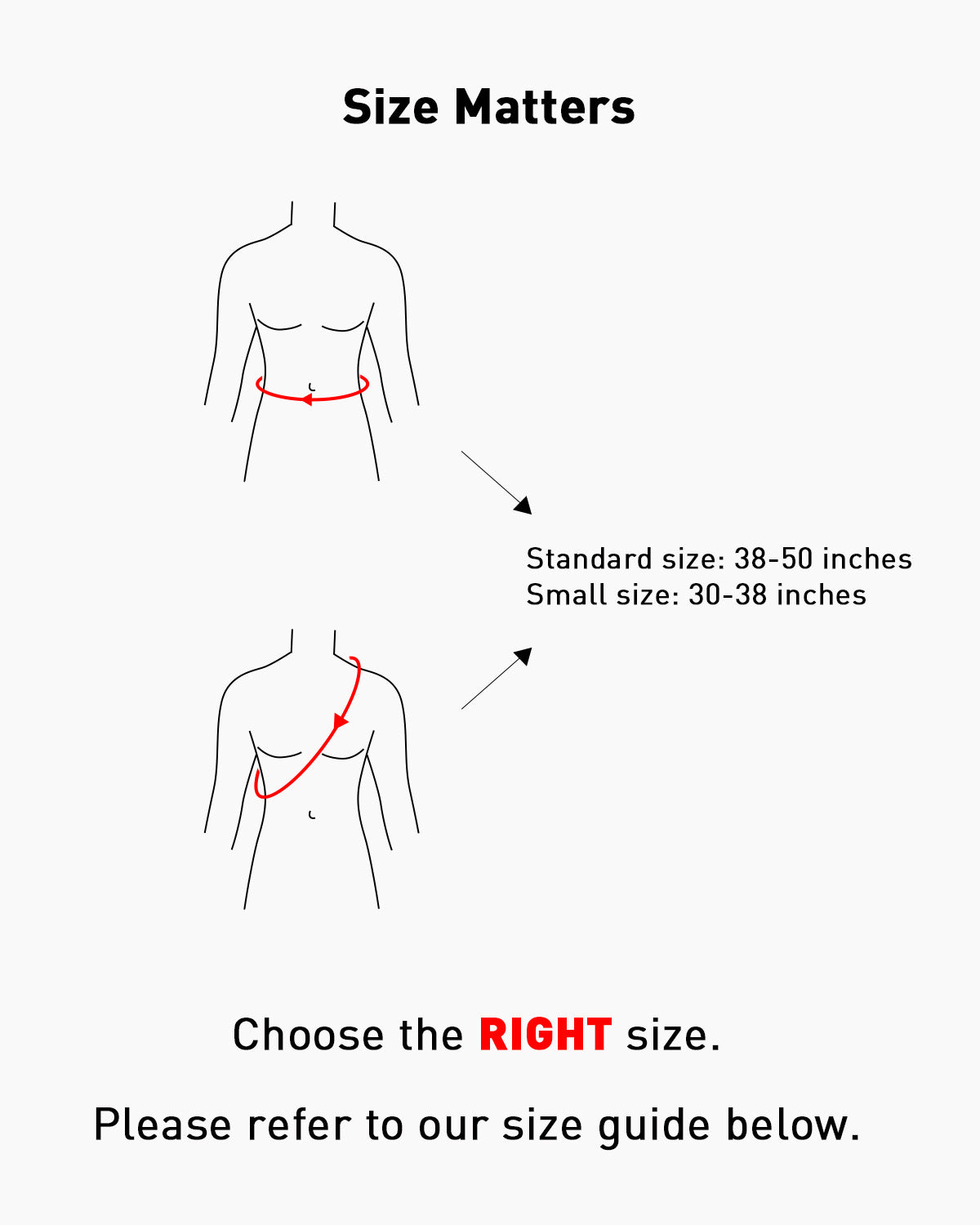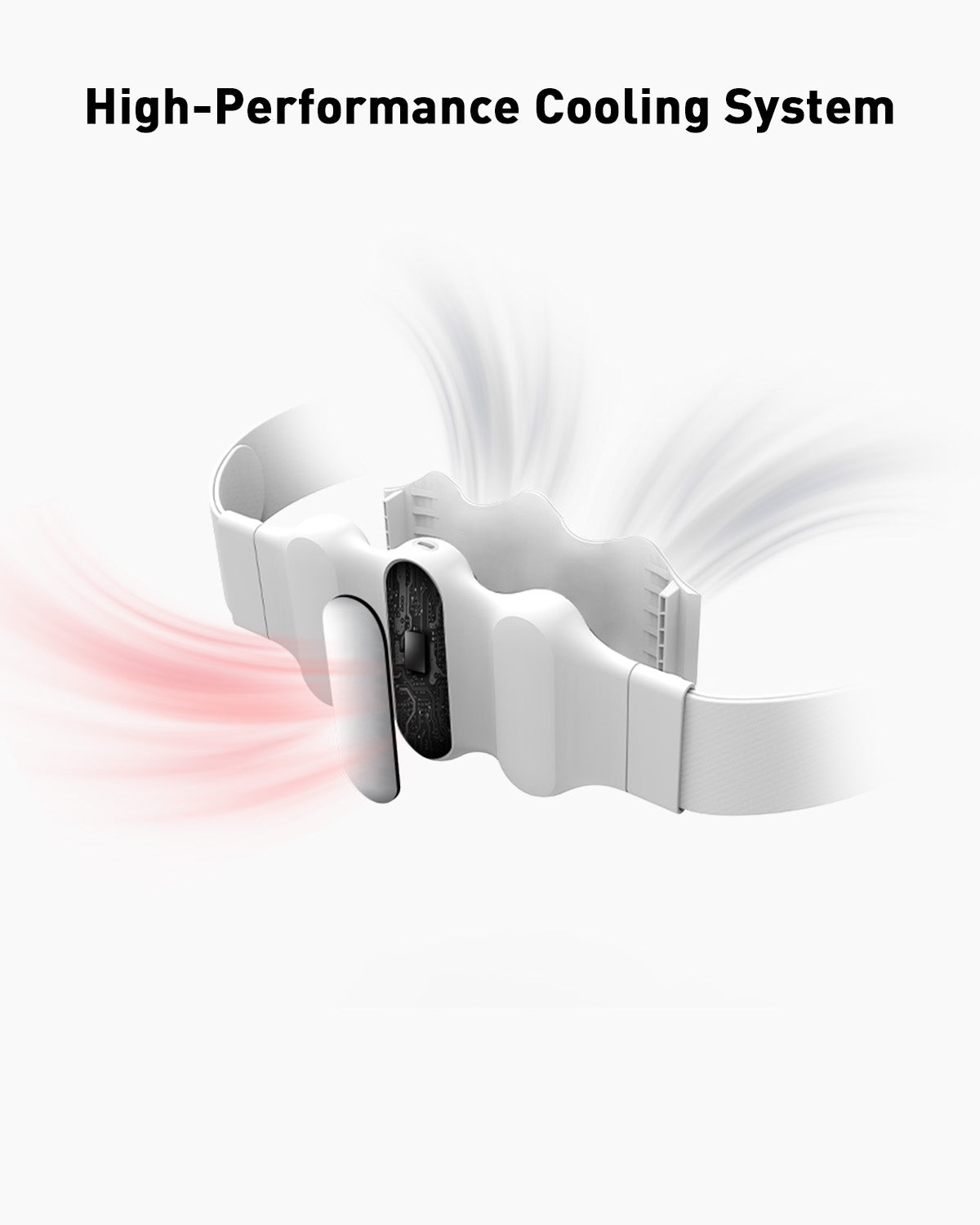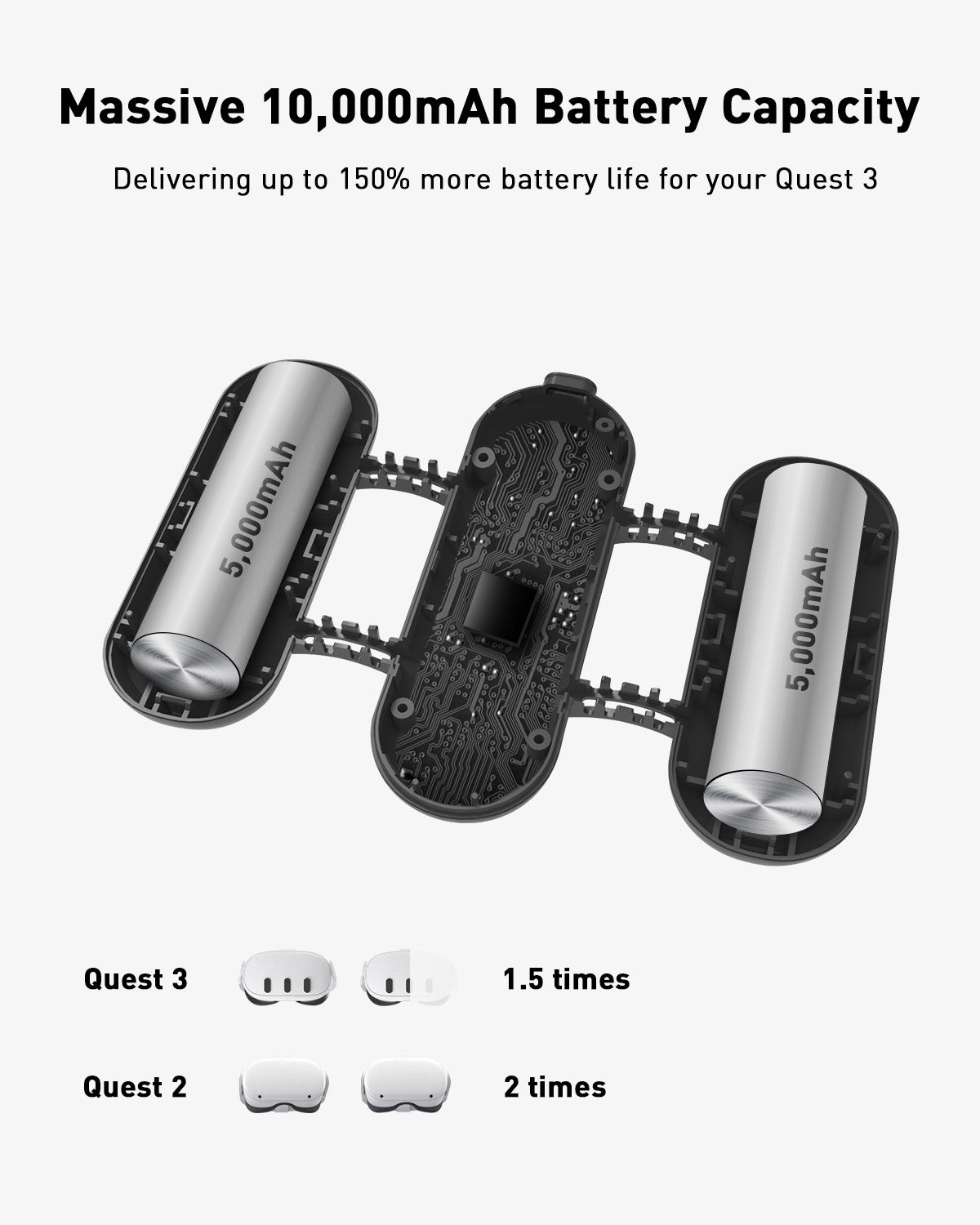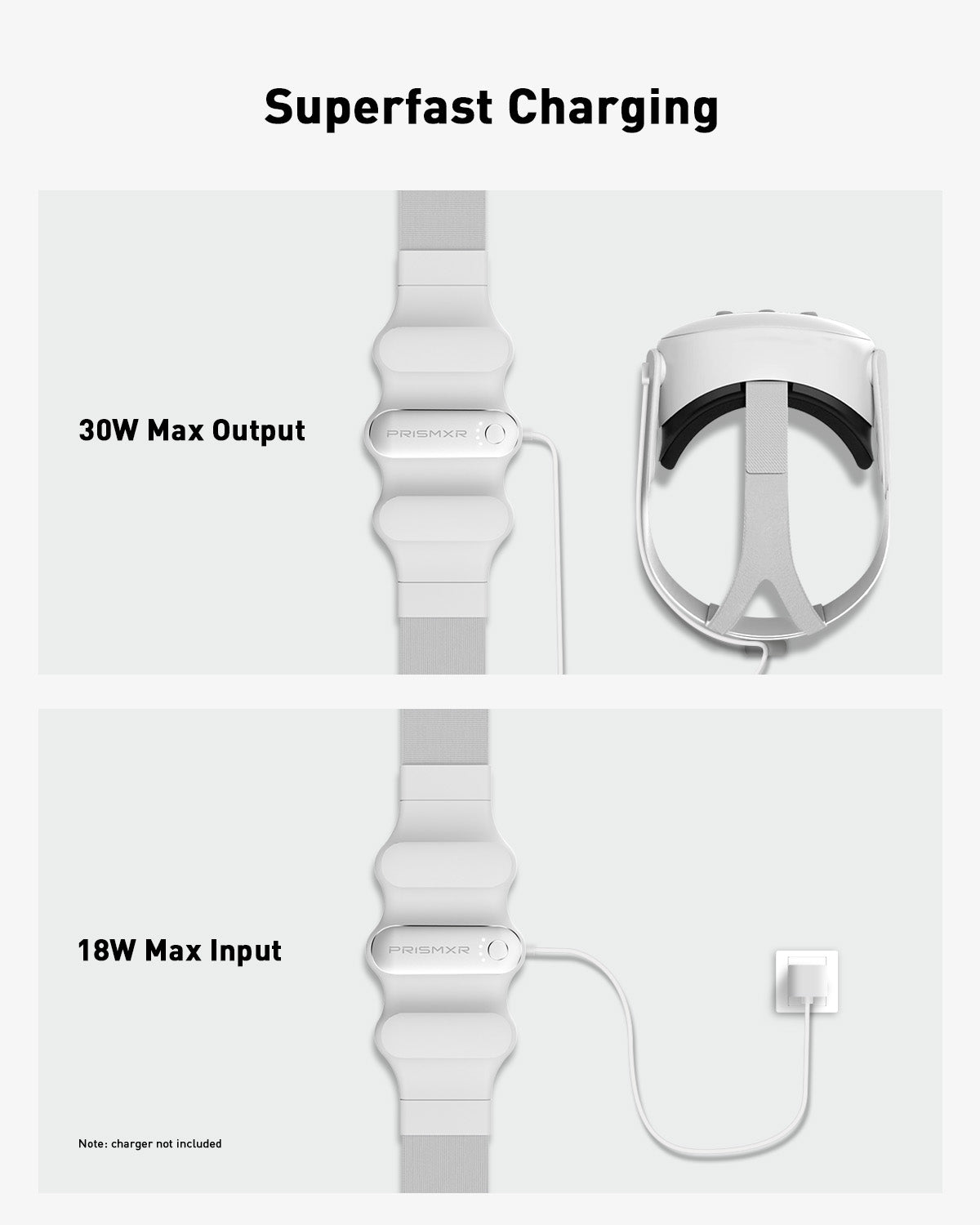 Carina W1 Wearable Power Pak (Quest3 Compatible)
World's First Dual-Worn Design: Carina W1 introduces a pioneering dual-worn power design, enabling wear as a belt on your waist or cross-body on your shoulder. Constructed with food-safe TPU and elastic strap, it adjusts for diverse body sizes, offering a secure, comfortable fit. By redirecting weight from your head or neck, Carina W1 elevates your comfort and revolutionizes your VR immersion, facilitating limitless exploration of captivating worlds.

Stay Cool, Move Freely: Carina W1 boasts a clever cooling system. Thermal insulation material on the body-facing side blocks the heat out and prevents your body from getting hot, while a strategically placed metal piece and extensive aluminum foil on the outward side dissipate the heat. Charge your VR headset at full speed without compromising on comfort. The discrete cable design runs along your back through a hub, ensuring a seamless connection to power and uninterrupted VR experience.

Massive 10,000mAh Battery Capacity: With the Carina W1 wearable battery pack fully charged, tripling your playtime from current 3 hours to an impressive 9 hours, and is capable of shortening the charging time of your Quest 2 with a depleted battery by 50%. Tips: Please press the LED indicator button on Carina W1 to check the battery level and charging state.

Superfast Charging: PrismXR battery pack supports a maximum output of 12V/2.5A, 30W, and an input of 12V/1.5A, 18W. It takes 1/3 charging time of a standard power bank which only has 5V/2A, 10W output. It's also capable of charging a MacBook Air at full speed.

Broad Compatibility: Carina W1 is not just for VR headsets. With its support for all devices with type-c port, it caters to a range of standards including BC, PD3.0, QC, Apple 2.4A, and AFC/FCP/SCP compatibility. It's your universal fit charging solution.
---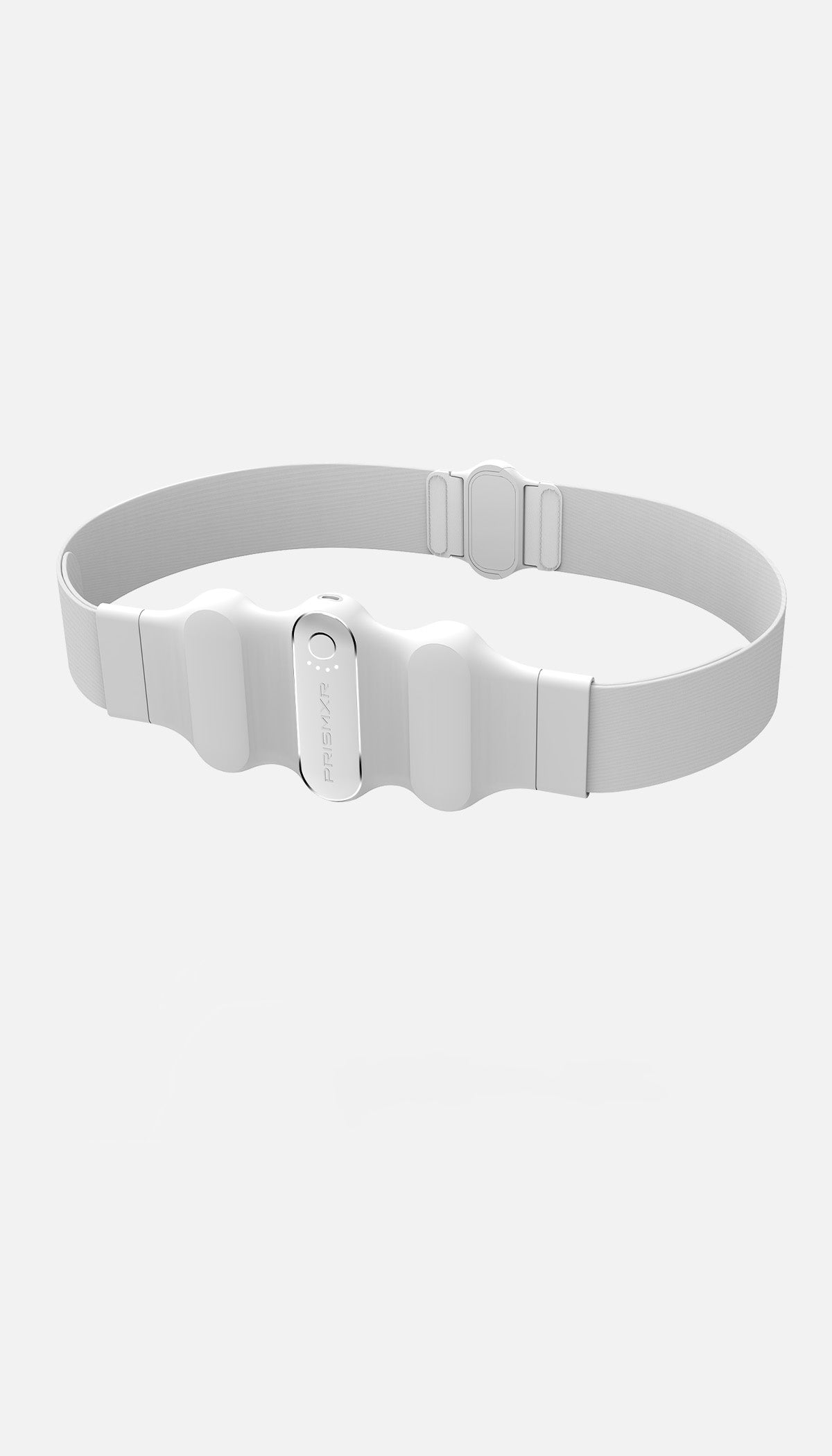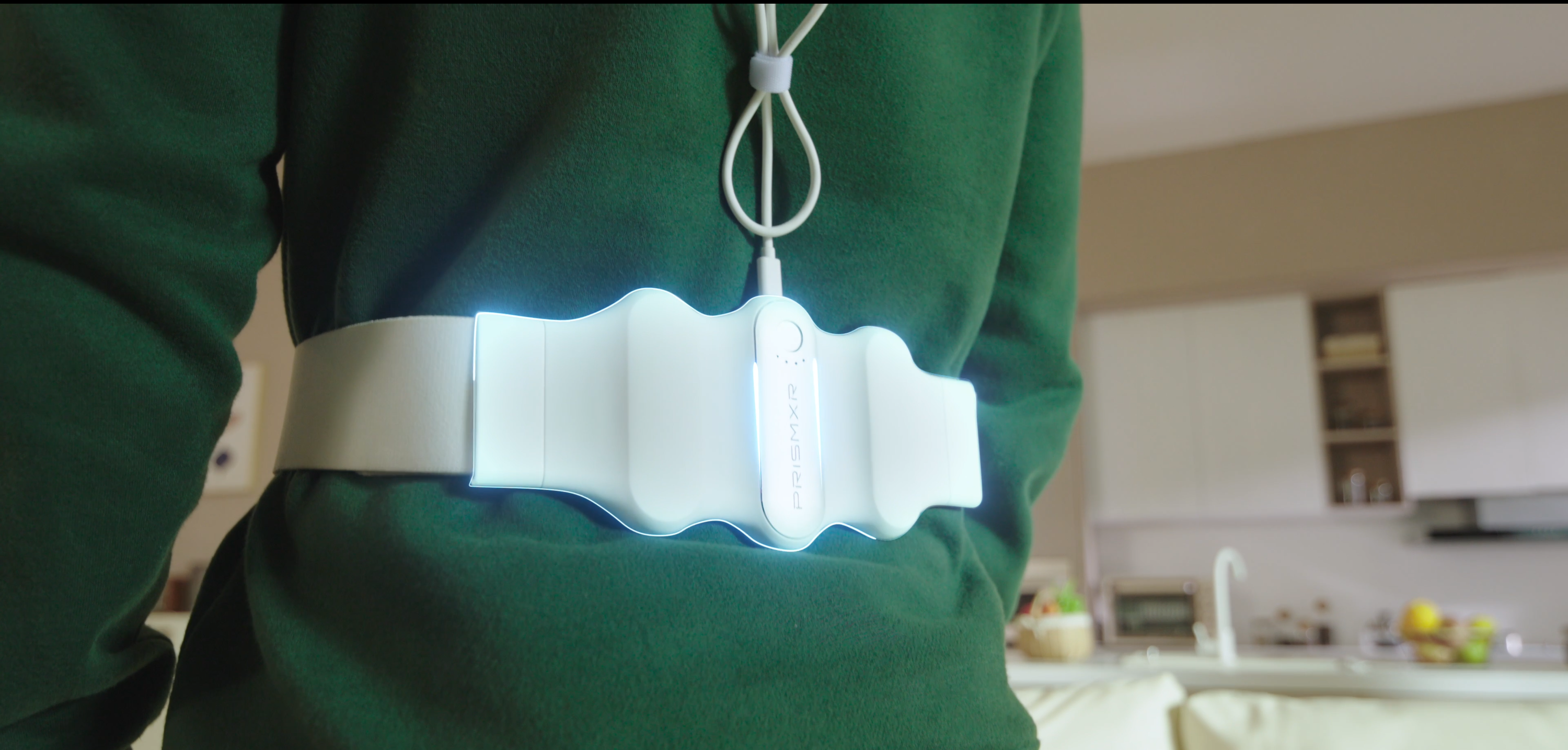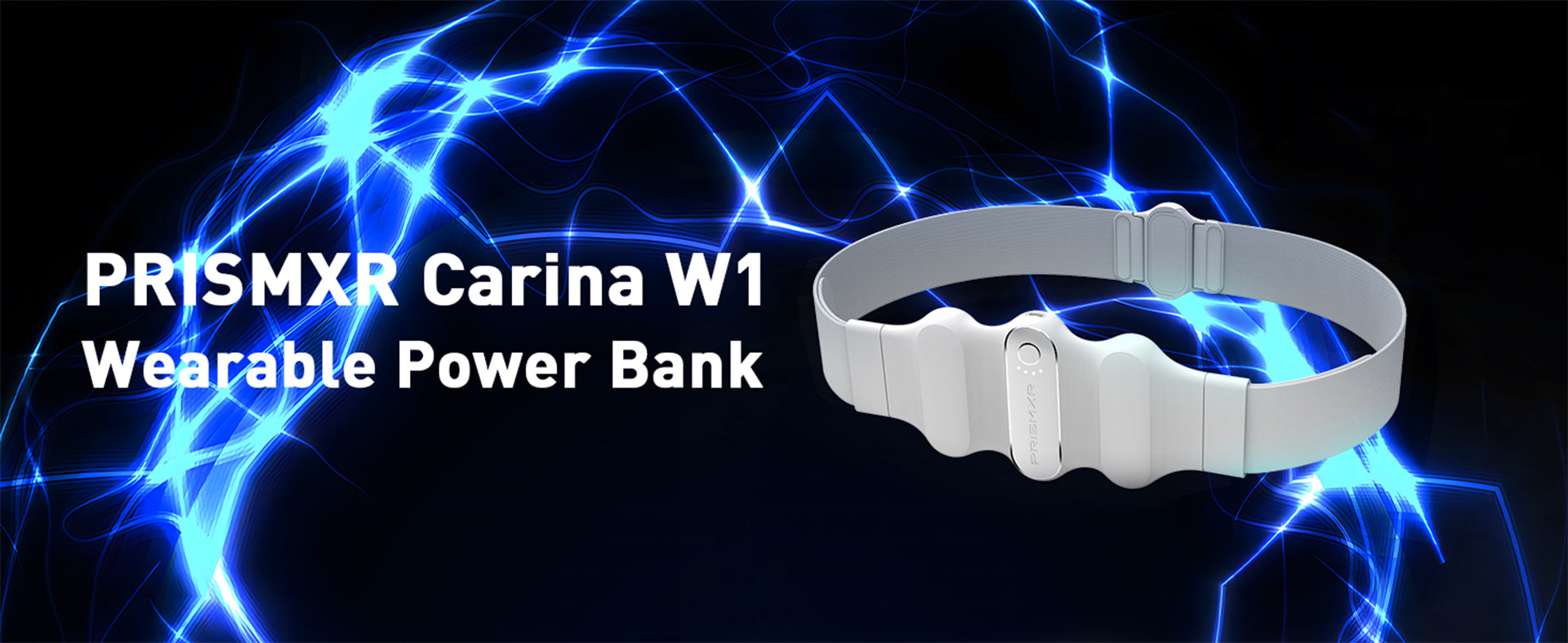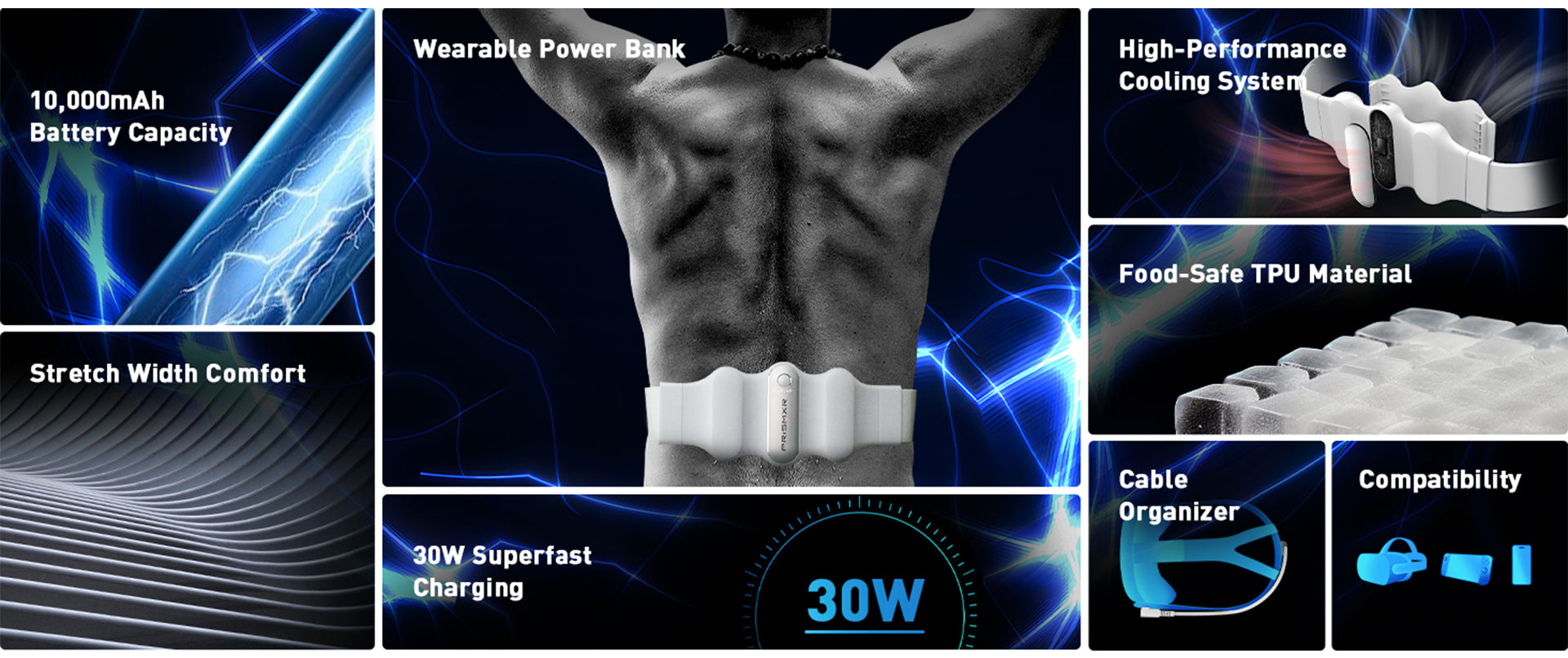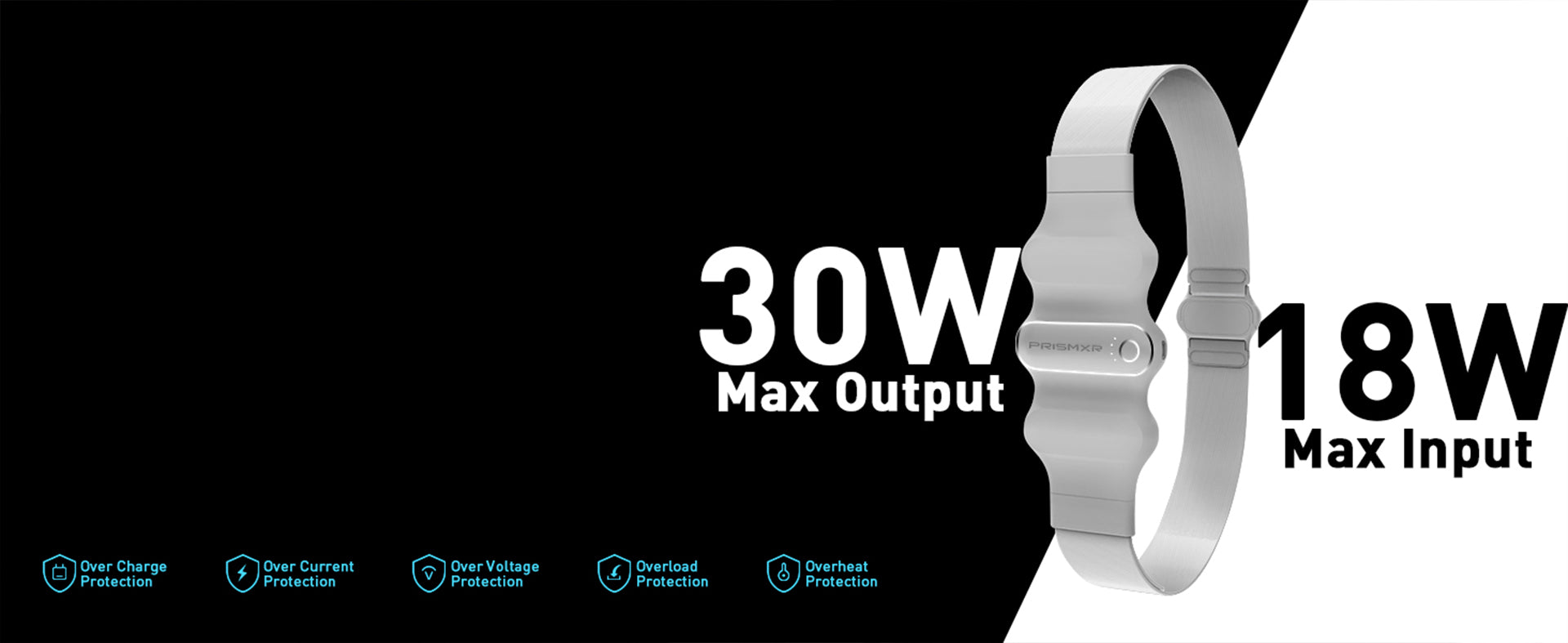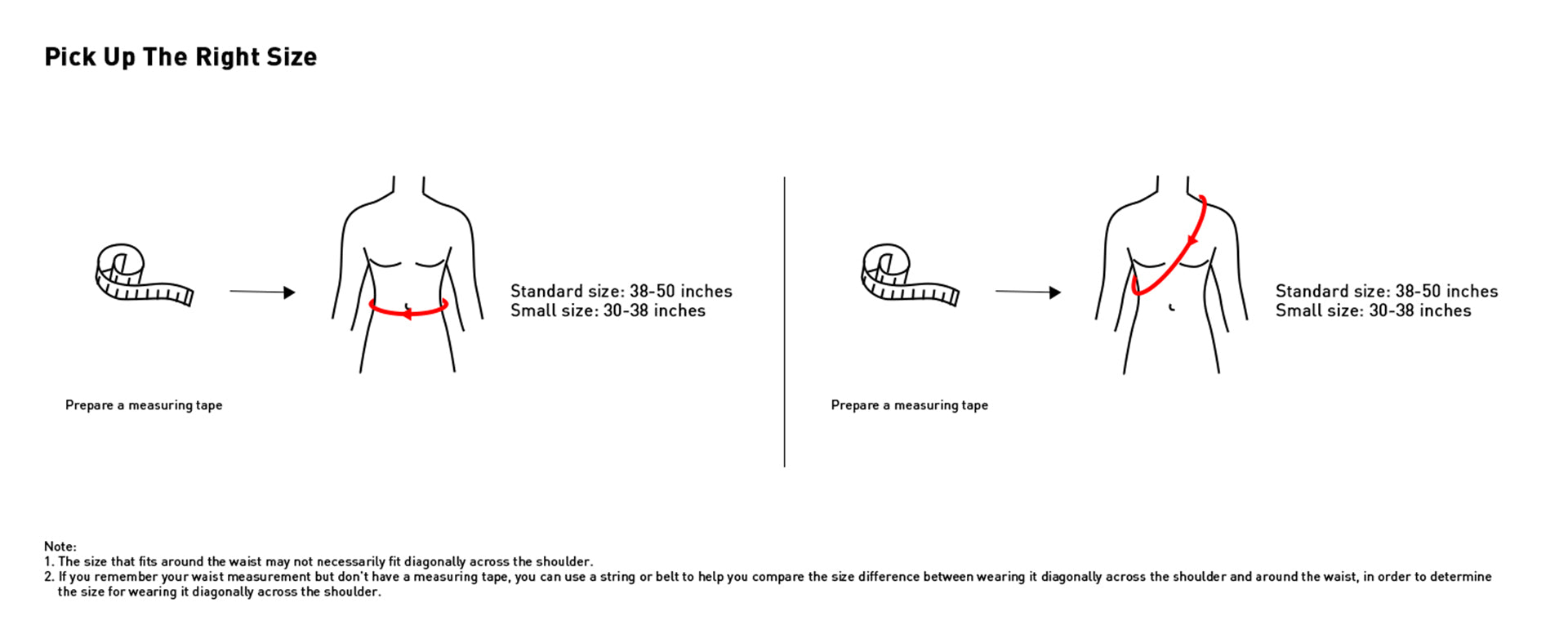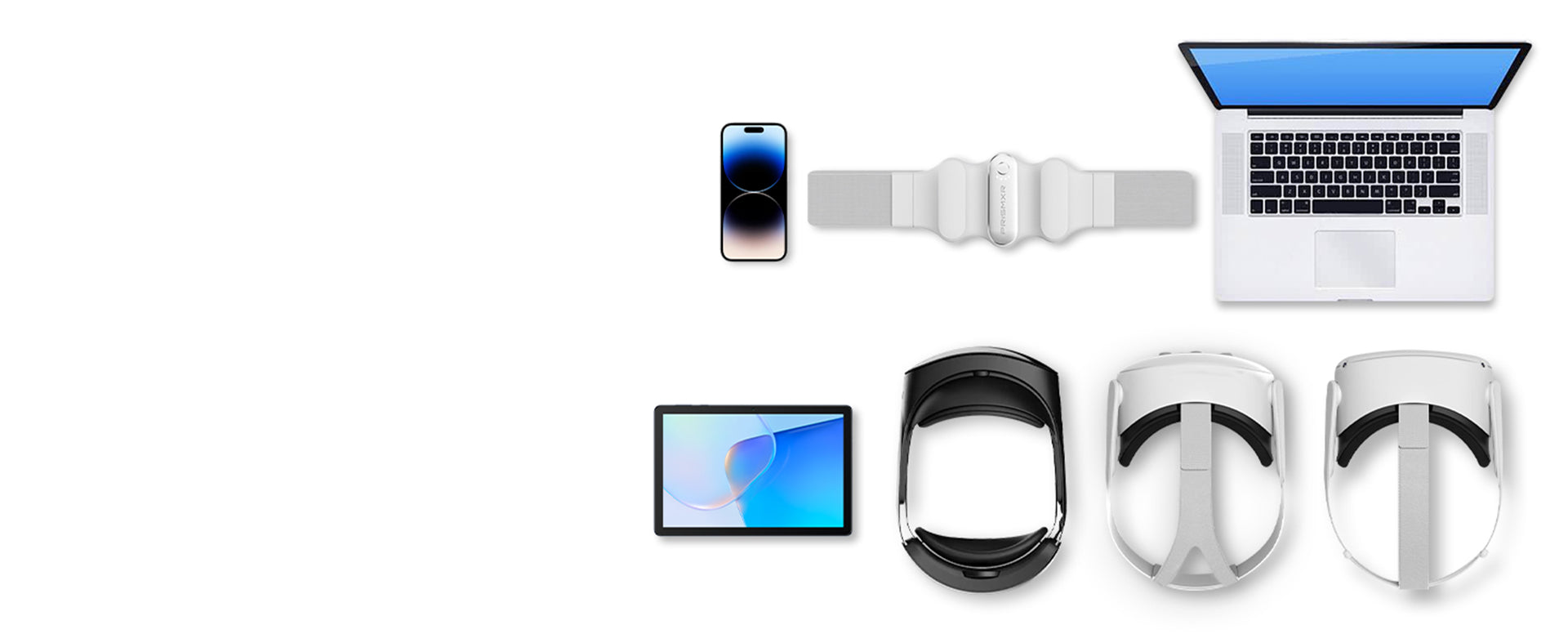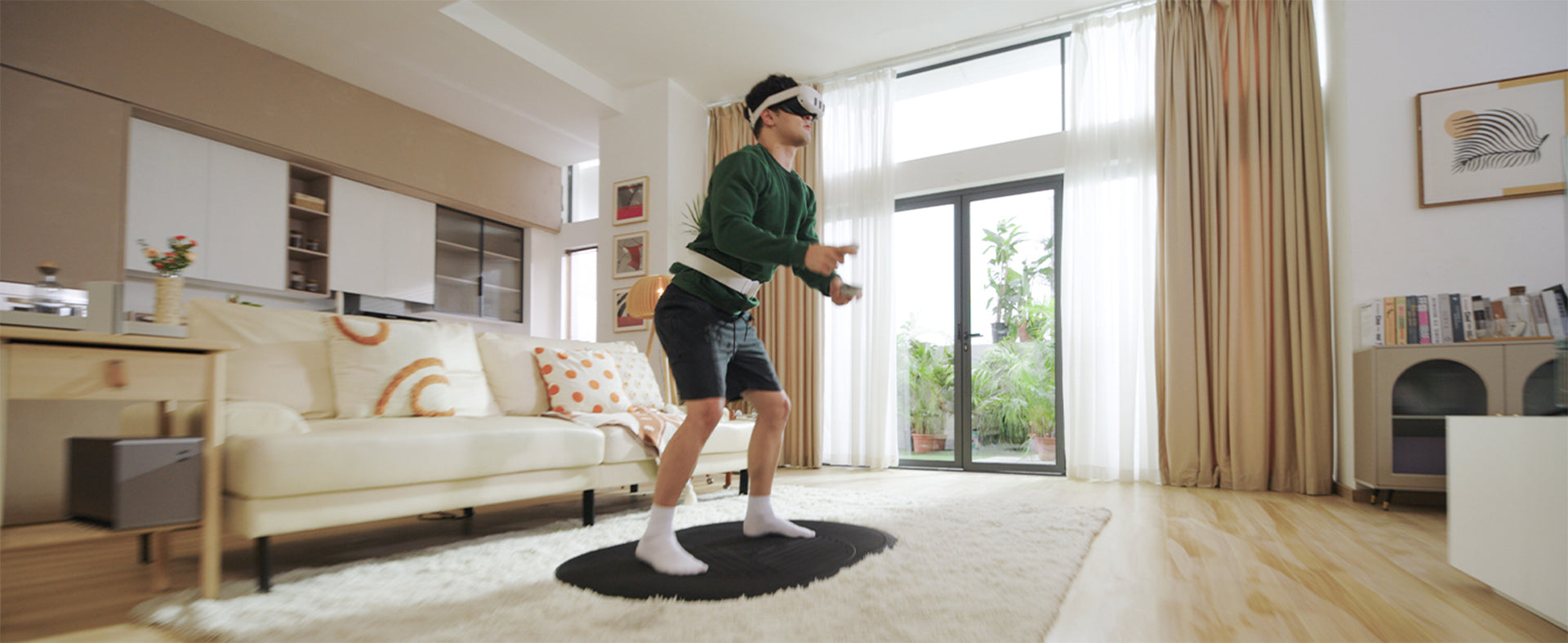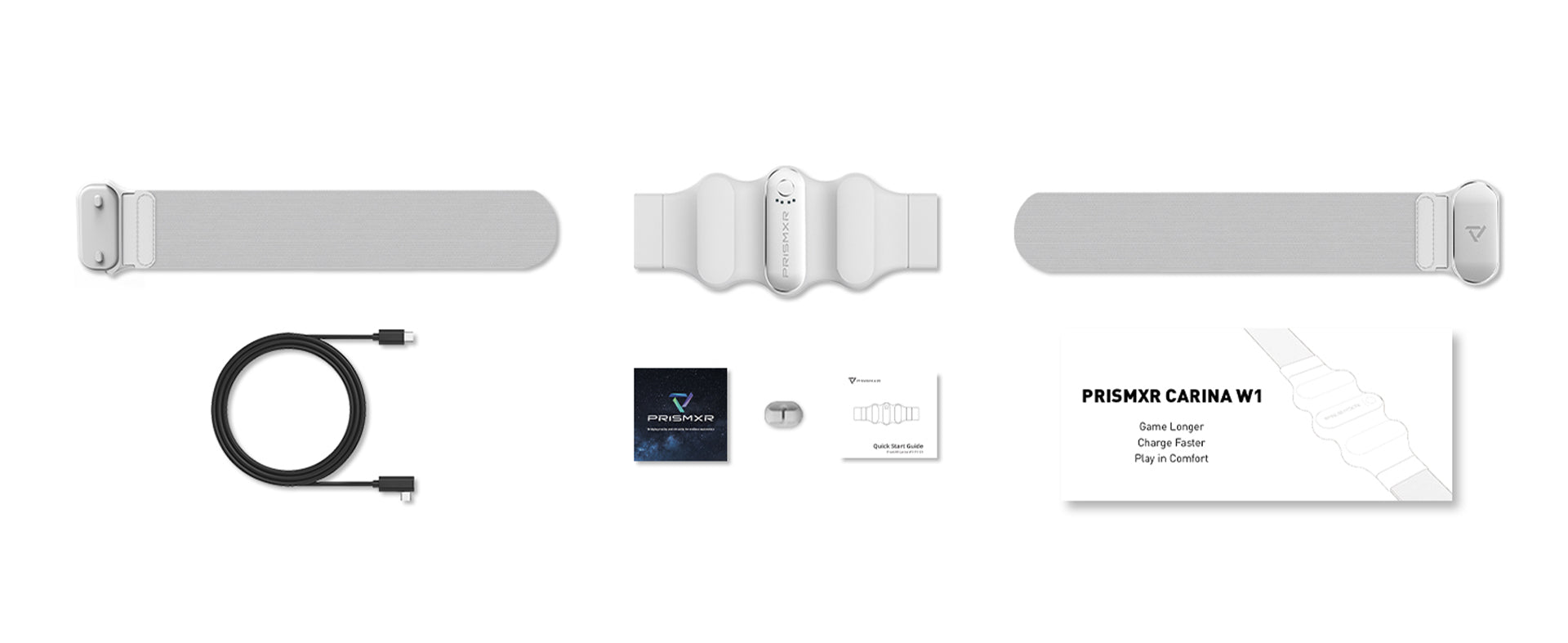 FAQ
Find the frequently asked questions and information about this product.
Any suggestion if the buckle has come loose when I use it?

For easy disassembly and assembly, the waistband buckle is connected by magnetic suction. You can avoid the waistband buckle coming loose by following these steps:

1. Do not fasten the waistband too tightly.

2. Avoid touching the buckle during use.
What can I do if the cord organizer cannot be attached?

The adhesive effect may vary depending on the material to which it is applied. To improve the adhesive effect, please follow the steps below:

1. After attaching the cord organizer to the VR device, press and hold it for at least 10 seconds.
Wait for 12 hours before using the cord organizer.

2. Use the included Velcro strap to secure the cable to the VR device."
Can Carina W1 only be charged using an 18W charging port? How long does it take to be fully charged?

No, Carina supports a maximum input of 18W, and most charging ports can be used to charge Carina. If you use an 18W charging port to charge Carina, it will take about 3 hours to fully charge.

The supported input protocols are as follows:

1. Non B.C.
2. B.C. 1.2
3. P.D. 3.0 5V/3A, 9V/2A, 12V/1.5A
4. APPLE 2.4A, Samsung AFC, FCP
How to clean the product?

Please clean the surface of the product with a damp cloth or alcohol. You can also remove the Strap and wash it with water using the following method:

1. Remove the left and right straps from Carina W1.
2. Hand wash the two straps in clean water (you can use laundry detergent if needed).
3. Allow the two straps to air dry naturally (do not wring them by hand).
4. Put them back after they are fully dry.
When neither of the two sizes fit me, what should I do?

Only two sizes are available for selection now. We will try to offer more sizes in the future. Please stay tuned.
Are there other colors available for selection?

Only Space Grey and Moonlight White are available now. We will try to offer new colors in the future. Please stay tuned.
Our customer support is available Monday to Friday: 8am-8:30pm.
Average answer time: 24h